How do you play Indian rummy cards?
Views: 54 Update date: Oct 31,2023
Card games have always been a popular source of entertainment and skill development. Indian Rummy, a classic card game, has a rich history and remains a favorite among card enthusiasts.
Indian Rummy is a variant of the traditional
Rummy card game
. It's typically played by two to six players using a standard 52-card deck, along with the inclusion of Joker cards. The game involves the formation of valid sets and sequences to win.
Getting Started
Before we delve into the intricacies of Indian Rummy, let's begin with the basics:
* Deck of Cards: Ensure you have a standard deck of 52 cards, complete with the Jokers.
* Number of Players: The number of decks used depends on the number of players. Use two decks for 4-6 players and one deck for 2-3 players.
* Card Distribution: Each player is dealt ten cards (or seven cards if there are 4-6 players).
* Objective: The main goal in Indian Rummy is to create valid sets and sequences with your cards.
Sequences and Sets
Distinguishing between sequences and sets is fundamental to mastering Indian Rummy:
* Sequences: These consist of consecutive cards from the same suit, like 4♠ 5♠ 6♠.
* Sets: These involve cards with the same rank but different suits, such as 5♠ 5♦ 5♥.
Success in the game depends on your ability to create and maintain these valid sequences and sets.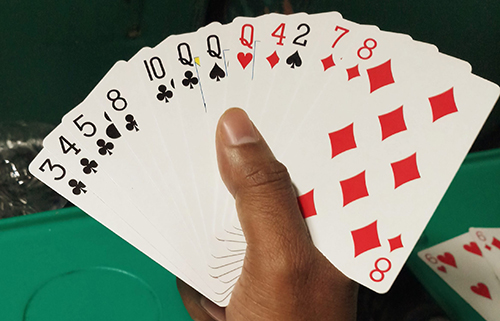 The Role of Jokers
Jokers are pivotal to
Indian Rummy
, as they act as wild cards. They can be used to replace any missing card in a sequence or set. However, there are rules for Joker usage:
* A maximum of two Jokers can be used in a single sequence or set.
* A Joker cannot be employed to form a sequence of consecutive cards from different suits.
Gameplay
The game begins with a player drawing a card from the deck or the discard pile and then discarding one card. This process continues as players take turns, meticulously strategizing to construct their sequences and sets. The game concludes when a player successfully forms valid combinations and declares victory.
Winning the Game
To secure victory, a player must have at least two sequences, one of which must be a pure sequence (a sequence without a Joker). The remaining cards can be in sequences or sets. Once a player declares, the other participants reveal their cards, and points are calculated. The player with the lowest points emerges as the winner.
Tips and Strategies
Mastering Indian Rummy requires skill and strategic thinking. Here are some tips to help you improve your game:
* Carefully observe your opponents' moves to anticipate their strategies.
* Discard high-value cards that cannot be integrated into sequences or sets.
* Prioritize forming a pure sequence early in the game.
* Utilize Jokers strategically, but don't rely too heavily on them.
* Maintain unpredictability in your discards to confuse your opponents.
* Practice regularly to enhance your skills and gain a competitive edge.
Prev: What is rummy called in India?
Next: Why is rummy illegal in India?